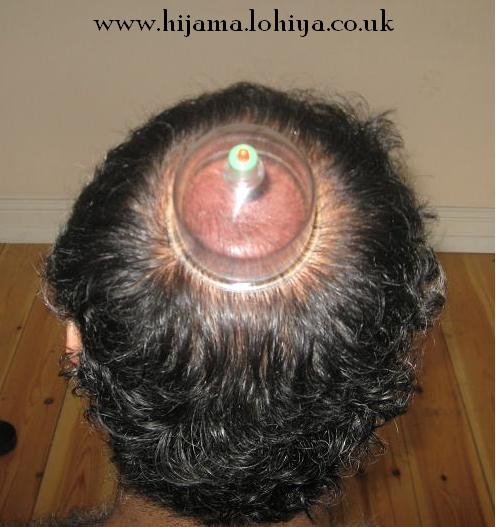 Head Cupping – Crown Point.This is my personal experience of head cupping on the crown point.
My dear wife, may Allah bless her, cups me every 2 months on my crown point.
(It's the only time I feel that my bald patch is a blessing from Allah).
Alhamdulillah Allah grants me many blessings, of which some maybe a direct result of head cupping.
Allah knows best, (long may they last, Ameen).
These are a list of some of my observations:-
Immediately after cupping, I feel light, refreshed & re-vitalised.
(A little like my batteries have just been replaced with new ones).
I am alert & ready for action
I feel like taking my kids to the park and actually playing with them & get some exercise.
I feel energetic and want to do things, start a project, Tidy up, get my tools out and fix something, take my wife out on a date, help my wife in the kitchen? (OK maybe not that much).
I want to have fun, joke and laugh with my friends and family more.
I can concentrate for longer periods of time, and think more clearly.
I get distracted less & can focus on what I'm doing.
I remember more, and forget less.
I sleep better and more soundly.
I feel like I am calmer, relaxed & mellow, (chilled out). I feel like a great weight has been lifted off my shoulders, and all the worldly things I usually stress & worry about are now not that important.
I sleep better & wake up for Fajr refreshed.
I don't get once-a-week headaches
I feel like giving my wife and kids more attention
I'm not sure if my wife will agree about the next few points.
I don't get too annoyed at things, and feel more patient. (I don't feel angry with little things, or complain, as much as usual).
I enjoy company, and I think I listen more.
I feel less negative & I have a more positive outlook of life.
When I pass a man in the street, I like to give him a smile or a nod, (without waiting for a smile back).
I don't think I'm a particularly touchy feely kind of person, but for some strange reason, I feel like hugging the family more. I appreciate the things Allah has blessed me with, and people a little more.
I feel like meeting my family and ringing those who are too far to visit.
I feel like living in the real world more, (Rather than get distracted & waste time in the virtual world, ie. TV, Internet, Facebook, Gaming etc).